JMG Solutions Ltd. were delighted to attend the Irish Building and Design Awards 2022, as a sponsor of the Construction and Project Management Firm of the Year. The event was held in the very prestigious 5 star InterContinental Hotel Dublin, and it was organised and hosted by CMG Events.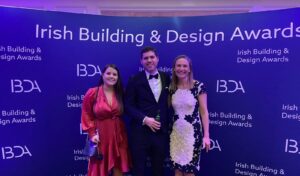 Jonathan Morrough [Middle], the Director of JMG Solutions, Adele Morrough [Right] the ISO Department Lead, and Ailbhe Burke [Left], the Head of Talent Acquisition attended the event on behalf of JMG Solutions.
JMG would like to extend a congratulations to both the finalists and the winner's of the IBDA awards, and especially to our sponsored category winners, Turner and Townsend. The event was very well organised, and we would like to extend a thank you to CMG for organising such a fun event.
To keep up with our latest news, and to follow along with recruitment, ISO, Consultancy, and Training, follow our page on LinkedIn. https://www.linkedin.com/company/jmg-solutions-ireland/